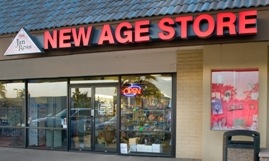 Jan Ross New Age Books & Gifts
4239 West Thunderbird Rd. Ste.2
Phoenix, AZ 85053

Phone: (602) 841-4933
Fax: (602) 439-6883

E-mail: janrossnewage@qwestoffice.net

"Like" us on facebook: Jan Ross New Age Books & Gifts

Check us out on
Instagram & Twitter

Namaste', We've been waiting for you, glad you made it...

Thank you for visiting our new Internet site. We are working on bringing our store into the age of technology. We are offering you the opportunity to satisfy your shoppping needs and sign up for classes/events and make purchases without having to leave your home or office.

At present, our web site is still under construction. We are making an effort to present you with our entire spectrum of merchandise. Soon, we will offer customers a chance to shop for many of their Angel, Fairy, Dragon, Crystal specimens and jewelry needs. Check out our huge selection of Tarot cards and variety of Metaphysical, New Age, Pagan and Self Help books and merchandise. Our goal is to have our shopping cart set up by the end of this July 2011. Please come back and check it out. At this point we can provide you with information regarding our upcoming Event schedule and Instore specials when you call or come in to our store. The emphasis of our site is on making it easy for the public to see what Jan Ross New Age Books & Gifts is all about and what we have to offer our customers. We take pride in the fact that we have been in business for 25 (twenty-five) years and have succeeded in providing our customers with a safe and secure place to come in and just relax or to be enlightened by our products, our knowlegable staff or by one of our reputable Psychic Readers. Be sure to either bookmark our site or add us to your favorites, We will be adding and updating regularly. Thank you.

If you are not familiar with our store and your first contact with us is online: We would be pleased to hear from you! Please let us know what your needs and questions are, we will be more than happy to help. We also welcome all profressionals, that may be interested in coming in and doing a class, workshop, or author event; please just call, come in or send us an e-mail for more information.